MARINE CONSTRUCTION SERVICES
Pier 27 Cruise Terminal and Northeast Wharf Plaza
The Pier 27 project included the construction of a modern cruise terminal to meet evolved security and passenger demands while allowing for the terminal to serve as a special event space when not used for cruise purposes. Additionally, Vortex developed the Northeast Wharf Plaza as a major public open space, integrated with public access to Pier 27. Read more . . .
Pacifica Fishing Pier Repair Project
The Pacifica Fishing Pier Repair Project consists of structural repairs work at the Pacifica Municipal Fishing Pier. These works include, amongst others, the repair of spalling concrete piles, repair of spalling soffit at the underside of the pier structure, repair/replacement of concrete deck panel covers and repair of spalling the concrete barrier railings. Read more . . .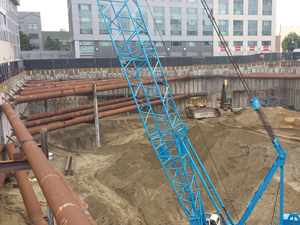 Trinity Bracing
Fabrication and installation of four-level temporary shoring and bracing system including jacking and loading of the struts. Read more . . .